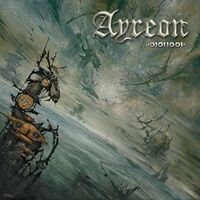 The Age of Shadows has begun. The Forever of Y have forgotten what it is to live. In an effort to recapture the spark of life they create humanity, but their own flaws are inevitably inherited by their intergalactic children.
Arjen Anthony Lucassen – electric and acoustic guitars, bass guitars, mandolin, keyboards, synthesizers, Hammond, and Solina
David Faber – cellos
Ben Mathot – violins
Ed Warby – drums and percussion
Tomas Bodin (The Flower Kings) – synthesizer solo on "Waking Dreams"
Joost van den Broek (After Forever) – synthesizer solo and piano on "The Sixth Extinction"
Michael Romeo (Symphony X) – guitar solo on "E=mc2"
Derek Sherinian (ex-Dream Theater) – synthesizer solo on "The Fifth Extinction"
Jeroen Goossens – flute; soprano and tenor recorder on "The Truth Is in Here"; bass flute on "Unnatural Selection"; tin whistle on "River of Time"
Lori Linstruth – guitar solo on "Newborn Race"
Information on the characters from this album can be found on the separate page: Characters from 01011001.
Through technological advancement, 'Forever', a race of aquatic beings living on Planet Y, have found the secret of longevity. They have advanced to the point that they have become completely dependent on machines and are losing their emotions. A passing comet on a collision course with Planet Earth provides the opportunity to revitalize their race. 'Forever' harness the comet to carry their DNA to a new home on Earth. When the comet and Earth collide, the cataclysmic impact exterminates the dinosaurs (The Fifth Extinction), but from the ashes of destruction, humans arise. At first, the experiment seems successful: through the humans, 'Forever' vicariously relive the emotions they experienced before the age of machines. In order to help mankind overcome their physical ailments and mental limitations, the 'Forever' speed up human evolution. But the result is tragic: people develop a similar technological dependency with their emotions waning just like 'Forever' and moral development not keeping pace with their capacity to invent. 'Forever' attempt to save mankind from its imminent self-destruction, but ultimately fail at this goal, and humanity dies in cataclysmic nuclear fire. The one remaining human on Mars reincarnates into the new Migrator Soul through the Dream Sequencer, ultimately completing the circle and breathing new life into Forever's emotions.
Community content is available under
CC-BY-SA
unless otherwise noted.