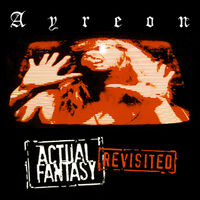 You may also be looking for the song of the same name.
Okkie Huijsdens – vocals
Edward Reekers – vocals
Robert Soeterboek (Cotton Soeterboek Band) – vocals
Cleem Determeijer – synth solo on tracks 3 and 4; orchestral and string arrangements on tracks 1, 3, 7, and 8
Rene Merkelbach – Hammond, synth solo on track 2
Floortje Schilt – violin
Arjen Anthony Lucassen – all other instruments
David Bachwitz – 'little boy' on track 1
Kiki Holleman – 'baby' on track 8
Ed Warby (Gorefest) – drums
Peter Vink – bass guitar
Ewa Albering – flute
Astrid van der Veen – vocal sample on "Back on Planet Earth"
Unlike most Ayreon albums, the songs on Actual Fantasy are not linked by one continuous plot, but instead draw on science fiction and fantasy films for inspiration, as well as stories written by Arjen himself.
1998 reissue bonus tracks
Community content is available under
CC-BY-SA
unless otherwise noted.