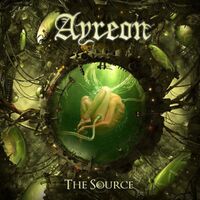 The Source is the ninth studio album from Ayreon, it was released on April 28th, 2017, under the Mascot Label Group.
Synopsis
Edit
The Source marks the return to the science fiction story line of previous Ayreon albums, serving as prequel for 01011001, making it the first one of the chronology as this album explores the origins of the Forever, the alien race from Y which is an important part of the story line. The story starts at the verge of the apocalypse on planet Alpha, follows the Ten, chosen Alphans who will allow the human race to survive, as they escape the planet, travel the stars, and end up on planet Y.
Vocalists
Edit
(Listed in order of appearance)
Detailed information on all characters can be found on the page Characters from The Source
Musicians
Edit
Arjen Anthony Lucassen – Electric and acoustic guitars, bass guitar, mandolin, synthesizers, Hammond, Solina Strings, all other instruments
Ed Warby – Drums
Guest Musicians
Edit
Joost van den Broek (ex-After Forever) – Grand piano and electric piano
Mark Kelly (Marillion) – Synthesizer solo on "The Dream Dissolves"
Maaike Peterse (Kingfisher Sky) – Cello
Paul Gilbert (Mr. Big, Racer X) – Guitar solo on "Star of Sirrah"
Guthrie Govan (The Aristocrats, ex-Asia) – Guitar solo on "Planet Y Is Alive!"
Marcel Coenen (Sun Caged) – Guitar solo on "The Dream Dissolves"
Ben Mathot – Violin
Jeroen Goossens (ex-Pater Moeskroen) – Wind instruments
Track list
Edit
The album is divided in four "chronicles", with each one of these chapters having an introduction by The Historian in order to gave more context of the history.
Chronicle 1: The 'Frame
Edit
Chronicle 2: The Aligning of the Ten
Edit
Chronicle 3: The Transmigration
Edit
Chronicle 4: The Rebirth
Edit