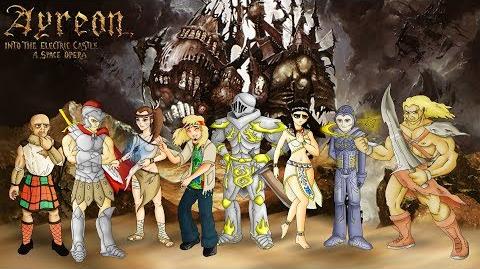 Tower of Hope is the fourth song on the second CD of Into the Electric Castle, and the eleventh song of the entire album. Its length is 5:45. It is preceded by The Castle Hall, and followed by Cosmic Fusion.
The Voice describes the Tower of Hope, and tells the adventurers to look brightly towards the future, as the outcome of a thousand futures is shown to them.
The Hippie and The Futureman are in awe of what they see, but reject the optimistic visions shown to them, as they are convinced it is all fake, and they are being shown what they want to see. They reaffirm their desire to escape and return to their regular lives.
From the wind-torn ramparts of the Tower of Hope we survey a thousand futures. Release your dreams from this electric pinnacle. You must have hope...
HIPPIE:
We're climbing up the stairs
And hope is flowing through our veins
FUTUREMAN:
There's magic everywhere
We've been released of all our chains
HIPPIE:
We're taking in the view oceans of blue,
Fields of green
FUTUREMAN:
I fear this can't be true
We're still inside this dream machine
CHORUS:
HIPPIE: I only felt what I wanted to feel
FUTUREMAN: I only saw what I wanted to see
HIPPIE: I'm at the end of my rope
BOTH: Lost in the tower of hope

HIPPIE:
I see a brand new age
Where peace and harmony prevail
FUTUREMAN:
But we're still in this cage
Destined to die here if we fail

CHORUS & REPEAT SECOND VERSE
HIPPIE: I only felt what I wanted to feel
FUTUREMAN: I only saw what I wanted to see
HIPPIE: I only went where I wanted to go
FUTUREMAN: I only knew what I wanted to know
BOTH: And we became who we wanted to be
HIPPIE: I only felt what I wanted to feel
FUTUREMAN: I only saw what I wanted to see
HIPPIE: I'm at the end of my rope
FUTUREMAN: Lost in the tower of hope