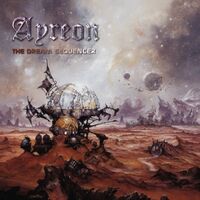 You may also be looking for the dream sequencer device.
In 2112 on Mars the last human alive relives the history of Earth through the Dream Sequencer, witnessing his ancestors' actions through their eyes.
The Colonist, the last human alive, decides to enter the Dream Sequencer and live through all his previous incarnations. From recent history all the way to the first man on earth, he visits the past and looks through the eyes of his historical selves.
Arjen Lucassen - electric and acoustic guitars, bass guitar, analog synthesizers, Mellotron, Hammond, and additional keyboards
Rob Snijders - drums
Erik Norlander - analog synthesizers, piano, vocoder, Hammond, and additional keyboards
Clive Nolan - synth solo on track 3
Peter Siedlach - strings
Community content is available under
CC-BY-SA
unless otherwise noted.